A tablet can become a powerful tool for your small business. A tablet's large screen is ideal for demos, graphs, and images, while the portable design often makes it more convenient than a laptop. If you're often on the go and need a large screen to share information with employees or clients, a tablet could be the ideal choice for you.
Before investing in a tablet, it is a good idea to look at what features it offers and whether those features are necessary for your business. The best tablets for small businesses should enhance connectivity and portability, deliver the kind of performance you need, and remain affordable.
Once you've got a shortlist of requirements, feel free to start evaluating various models that meet the needs of your company. Here are a few we recommend, and if you'd like to see more options, check out our list of the best tablets on the market today.
Samsung Galaxy Tab S8 Plus
Best Android tablet
Pros
Powerful
Beautiful hardware
Gorgeous display
Great speakers
Productivity powerhouse
Cons
Keyboard case not included
Some software trouble
Why should you buy this? The Tab S8 Plus has a lot to offer for business owners at all levels.
Who's it for? Business owners seeking the latest powerhouse.
Why we picked it: If you like to get your hands on the latest goods on the market, this one's for you. Beyond its newness, the Tab S8 Plus comes with tons of helpful features that'll help business owners manage things more effectively. The 12.4-inch AMOLED display is impressive and quite useful for consuming content, taking meeting notes, sharing presentations, creating graphs, and performing other everyday business tasks.
The device comes with an S Pen, which is excellent for drawing, writing, and using complex business tools. You can also buy a keyboard separately to make typing easier. The Qualcomm Snapdragon 8 Gen 1 processor is excellent for running most types of business software, and the 120Hz refresh rate makes multitasking a breeze. You get 128GB to 256GB of storage space, which is more than enough for storing important business documents.
Android apps don't run perfectly on tablets, but that's not this device's fault, and it's still an admirable powerhouse worth every penny. It's worth a lot of pennies, though, so keep in mind that this isn't a budget device.
Samsung Galaxy Tab S8 Plus
Best Android tablet
Samsung Galaxy Tab S7
Runner-up
Pros
Excellent audio
Great RAM and storage
Includes the S Pen
Cons
LCD screen
Pricier than other old tab models
Why should you buy this? It's a fairly newer tablet with all the necessary features at a lower cost.
Who's it for? Business owners who want a recent Samsung tab but don't want to splurge on the S8 series.
Why we picked it: It's not as impressive as the Tab S8 Plus but offers plenty of helpful features for small business owners at a more affordable price. You get a neat 11-inch screen with a 2560 x 1600 resolution, which is ideal for watching videos, browsing the internet, and working with any documents. It comes with 6GB of RAM and 128GB of storage or 8GB of RAM and 256GB or 512GB of storage, which is more than enough for storing plenty of business files. If you're frequently writing on a tablet, you'll find the S Pen ultra helpful as well.
The Tab S7 is 5G enabled, which is great for video calls or working on the go, and has an 8,000mAh battery and 45W fast charging, so you can keep working without interruptions. You get four speakers with excellent audio output so you can host meetings, play informational videos, attend webinars, or just take a break with a nice movie. Among the few downsides, you have to settle for an LCD screen and still pay a hefty price, which may be a deal-breaker for some.

Samsung Galaxy Tab S7
Runner-up
Lenovo IdeaPad Duet
Budget-friendly pick
Pros
Excellent build quality
Lighter than the iPad
Tremendous value
Long battery life
Cons
Cramped keyboard layout
Entire package is a bit chunky
Mediocre performance
Why should you buy this? It's a great 2-in-1 tablet with potential for versatile use.
Who's it for? Small business owners needing a decent performer on a budget.
Why we picked it: The Lenovo Chromebook Duet detachable tablet offers 4GB of RAM, 64GB of storage, and a MediaTek Helio P60T processor for an incredible price, making it a solid performer for a fraction of the typical tablet costs. It won't run extremely heavy software, but it's more than good enough to get everyday tasks done. It has a 7,000mAh battery life, offering around 10 hours of runtime, so it should get you through an average business day without looking for a charger.
We love the tablet's distinctive look with its dual-tone Ice Blue and Iron Gray design and fabric texture — but it's not all about looks. It features an 8-megapixel rear camera and a 2MP front-facing camera, plus a 10.1-inch, 1920 x 1200-pixel display that's good for attending video calls, brainstorming with your team, or taking business lessons on the go. If you're in a hurry, it's fast to boot up in around eight seconds, and the detachable keyboard is comfortable to type on quickly. The only issue is that no pen is included — but don't let this stop you. You can pick up a compatible stylus for easier use.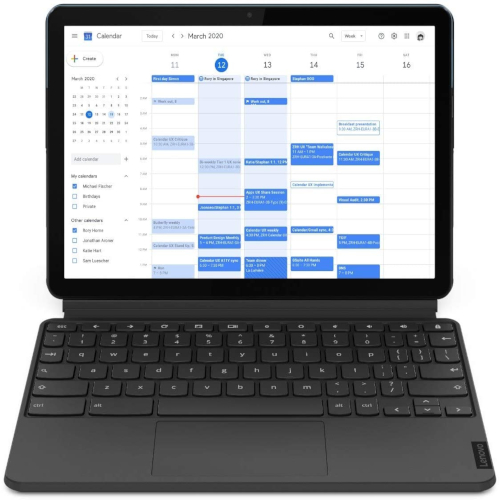 Lenovo IdeaPad Duet
Budget-friendly pick
iPad Pro 11-inch (2021)
Best iPad
Pros
4K video recording
Excellent processor
10-hour battery life
Cons
Doesn't come with a keyboard or stylus
Why should you buy this? The iPad Pro 11-inch (2021) is one of the newest and the best iPad models with plenty of features to appreciate.
Who's it for? Apple users looking for a laptop replacement.
Why we picked it: Even if you're not a Mac user, the Apple iPad Pro 11-inch (2021) is one of the best tablets available, especially since the M1 update with Apple's own speedy processor. Apple's lineup offers a sweet selection of iPads, including the two iPad Pro models at 12.9 and 11 inches. The 11-inch model is our pick, with its Liquid Retina IPS screen and 2388 x 1668 pixel resolution. Both models have comparable specs and are available with storage of 128GB, 256GB, 512GB, and 1TB, but the 11-inch version is much cheaper with only minor disadvantages.
With a 10-hour battery life, the tablet is great for multitasking, watching videos, and attending meetings all day without running for the charger. If you're always on video calls, you'll appreciate the dual camera on the back — a 12MP main sensor and a 10MP wide-angle lens. You also get Smart HDR, 4K video recording at up to 60 frames per second, five microphones, and a lidar sensor for measuring distances — and there's a 7MP TrueDepth front camera with Face Unlock, too. One downside is that it won't come with accessories like a stylus and a keyboard, so you'll have to buy them separately if needed.
iPad Pro 11-inch (2021)
Best iPad
Microsoft Surface Pro 8
Best for MS ecosystem users
Pros
Gorgeous, 120Hz screen
Impressive performance
Has two powerful Thunderbolt 4 ports
SSD is easily accessible
The Surface Slim Pen 2 is exceptional
Cons
More expensive
Still lacks mobile apps
Why should you buy this? It's the latest and the best Windows 2-in-1 tablet you can buy right now.
Who's it for? Users who want something similar to the iPad Pro but don't want to get sucked into the Apple ecosystem.
Why we picked it: The Surface Pro 8 comes with a hefty price tag but you also get exciting features, making this tablet a solid laptop replacement. The 13-inch screen is a pure delight, and the 2880 x 1920 resolution with the 120Hz refresh rate makes both work and play fascinating. It's a bit heavier than older Surface Pro models, but the iconic kickstand helps. It's great for business owners who are doing multiple things at once and can't run around with a tablet in their hands. The 2-in-1 build also helps with versatile use as you can switch between using it as a simple viewing device and a workhorse.
With Windows 11 and a decent processor, the tablet promises great performance so you can get things done faster. The 128GB SSD storage is another helpful addition for business owners who like to store all their work files on one device. The 10-megapixel camera on the back can shoot 4K videos if shooting or recording conferences is a part of your job. The front camera also keeps your face in focus, which is perfect for all those long meetings with important business people.
The biggest downsides are the heavy price tag and a massive lack of Android apps. If you're a Microsoft user, though, it may be the perfect choice for you.
Microsoft Surface Pro 8
Best for MS ecosystem users
Amazon Fire HD 10 (2021)
Best Amazon tablet
Pros
Super affordable
Alexa integration
Decent battery life
Cons
Limited access to Google Play Store
Won't support heavy multitasking
Why should you buy this? It's a solid Amazon tablet, offering key features at an affordable price.
Who's it for? Business owners on a budget who want all the basic features.
Why we picked it: The Amazon Fire HD 10 serves nicely with a 10.1-inch LCD at 224 pixels per inch (ppi). This is good enough to browse documents, watch important videos, or analyze charts. It's not as vivid as others on this list, but the low price tag makes it worth the compromise. The tablet comes packed with 32GB or 64GB of storage, and you can expand the storage with a separate microSD card if you store heavy business files on your device.
The Fire HD 10 features a 2MP rear-facing camera for shooting photos or 720p video and a 2MP front-facing VGA camera that works fine for most business calls. If you're ingrained in the Amazon ecosystem, you'll find using Alexa quite convenient. Simple commands can book meetings, show your schedule, run internet searches, and even send texts if you're in a hurry.
However, if you're super reliant on the Google Play Store, this one isn't for you. The tablet runs Fire OS, so it doesn't have full access to the Google Play Store, limiting the number of third-party apps and games available. If you don't mind being locked into Amazon's limited app store, this one's a great bargain buy.
Amazon Fire HD 10 (2021)
Best Amazon tablet
Apple iPad (9th-generation)
Best budget Apple tablet
Pros
Latest affordable iPad
A13 Bionic chip
Oleophobic coating
Decent camera and storage
Cons
Not the best performer
No fancy features
Why should you buy this? You can enjoy the classic iPad features without burning a hole in your pocket.
Who's it for? Apple lovers who want a budget tablet.
Why we picked it: While the iPad Pro can make for an excellent, powerful tablet that serves as a laptop replacement when needed, it may be too bulky and expensive for many users. Those who want a more portable tablet option while sticking to a stricter budget can consider the standard iPad. Don't let the lower price tag fool you, though. This tablet offers great performance. Its A13 Bionic chip handles everything smoothly so you can switch between tasks without lagging. The 10.2-inch display is ample for watching videos, creating charts, and reading business documents, while the oleophobic coating ensures there's no pesky fingerprint residue left behind after you're done.
You get 1080p HD video recording, 3x video zoom, and 122-degree field of view, which is pretty neat if your job involves working with a camera. The storage capacity is slightly smaller, starting at 64GB and going up to 256GB, but it's decent enough for storing everyday business files. It isn't an all-powerful workhorse and doesn't offer some of the fancy features others on this list do, but it's still a solid option for business owners ingrained in the Apple ecosystem.
Apple iPad (9th-generation)
Best budget Apple tablet
Frequently Asked Questions
How do you choose a tablet?
When you start shopping for a tablet for yourself and your team, don't be mesmerized by all the flashy products that are available. You'll be happier with your purchase and it will serve you better if you set a few parameters before you start looking. Determine what will be the primary use of the device, how much you are willing to spend on each tablet, which operating system syncs well with your other computer systems and smartphones, and which features and specs mean the most to you.
Companies can use tablets for all kinds of operations, including payment processing, fieldwork, and media consumption. You may also want to differentiate between executives and employees who need different types of tablets for their differing roles in the company (primary versus supplementary, or even rugged devices, depending on the worksite). Also consider size, battery life, processor, storage, and external ports for accessories.
What do the different tablet features mean?
Businesses will have different uses for tablets. Here are some features to take into account:
Storage: If your business generates a lot of documents, photos, videos, and multimedia assets that you want to keep with you (with or without cloud backup), make sure you buy a tablet that has adequate storage for your needs. Storage is available anywhere from 16GB all the way up to 1TB.
Battery life: Battery capacity can vary quite a bit depending on the size of the device, but you're generally looking at between 6,000mAh and 8,000mAh, sometimes dipping into the 3,000mAh range for smaller devices. If battery life is important to you, then read some reviews and get an idea of how the capacity translates into hours of real-world usage.
Cameras: Tablet cameras are generally considered more of a convenience than a vital feature. Nonetheless, most tablets come equipped with front and rear cameras that may prove useful depending on your needs. Front-facing cameras are handy for video conferencing and video chats via Skype, FaceTime, and other services. Rear cameras may be useful for scanning documents.
Wi-Fi: Wi-Fi comes standard for all tablets, and most support the fastest Wi-Fi standards available at the time of purchase — the 802.11ac standard, even if your office has an older router.
Processor: Tablet processors vary widely and are sometimes specific to the manufacturer, such as Apple's iPad A12X chip. You might check out the processor online to see how fast it is and how it compares with others.
Speakers: Tablet speakers are utilitarian as opposed to premium, but subpar audio can seriously mar the tablet experience. Make sure that the sound quality is decent when you check out the reviews of tablets you're considering, or better still, go to a store like Best Buy, which may have a few demo tablets out, and listen for yourself. If you play music, get one with speakers on either side for optimal sound separation.
Stylus: Styluses and tablets go together, and certain tablets have styluses that are made especially for them to take advantage of their hardware and software features. If you need one, get a stylus that's custom-designed for your tablet. Many support multiple pen types that let you switch between thick pen strokes and thin ones with the click of a button.
Expandable memory: Some tablets include SD card slots, a handy feature that lets you add storage space as needed.
LTE connection: When you're out in the field, you may not want to use available Wi-Fi for online communications. LTE connectivity can get you online anywhere. You'll need to add your tablet to your mobile data subscription plan from a wireless provider to get everything up and running.
What is the most popular tablet for businesses?
The iPad Pro 12.9 (2021) is one of the most popular tablets for businesses. Apple has made some huge strides in its tablets in recent years, making big upgrades to iPadOS and closing the gap between laptops and tablets. A massive 9,720mAh battery with 18W charging and 128GB/256GB/1TB/2TB storage options are only the start of what makes the top-level iPad Pro one of the best business tablets to grab. Apple's new M1 processor means it has as much power as a MacBook, and the stunning display and Magic Keyboard mean it's a serious MacBook challenger in the office.
What are the advantages of business tablets?
Business tablets tend to have faster processing, more generous storage space, and longer runtimes with fast charging. For example, the Samsung Galaxy Tab S7 has the Qualcomm Snapdragon 865 Plus processor, an 8,000mAh battery with 45W charging, and 128GB and 256GB storage expandable up to 1TB. This extra power means you're unlikely to be left waiting when you absolutely need a bit of power behind you. Another obvious advantage is portability. If you access a lot of important files on the go, using a business tablet can make your everyday operations much easier.
How do I choose the right tablet for my business?
Look at your primary needs. Do you browse a lot? Then consider devices like the Amazon Fire HD 10 (2021) that offer plenty of basic features at an affordable price. You get 32GB of storage with a 1080p Full HD screen at a starting price of $150. If you perform a lot of heavy operations like editing long videos, consider tablets with good battery life and at least decent, if not super-fast, processing power. The Microsoft Surface Pro X and the Apple iPad Pro can be great options in this category. Identify your must-have features and see which devices in your price range offer great performance in these areas.
Editors' Recommendations