With carriers rolling out advanced 5G networks across the country, there's a good chance you're covered by the faster cellular network. Now that more phones than ever come with 5G technology built-in, there's every reason to opt for 5G support when upgrading to a newer phone.
We've been reviewing 5G phones since the start of the 5G era and have spent countless hours testing all aspects of 5G phones — including their performance, display quality, battery life, and 5G network connectivity. We've also covered 5G as a whole, from the rollout of 5G networks to the development of the 5G modem.
Here are the best 5G phones available. Right now, the best 5G phone you can buy is also the best overall smartphone: the iPhone 14 Pro. However, if you're an Android fan, there are also plenty of worthy choices from Samsung and Google, so you're not missing out. Once you know which phone you want, you can check out the latest 5G phone deals for the best prices.
iPhone 14 Pro
Best 5G phone overall
Pros
Camera improvements mean great photos
Always-on display looks fantastic
Powerful A16 Bionic processor
Vibrant screen and clear speakers
Long-term software support
Cons
One-day battery life
Modest charging speed
Why you should buy this: The iPhone 14 Pro packs in Apple's latest technology — and looks good while doing it. You get a gorgeous always-on display with a 120Hz refresh rate, an outstanding 48-megapixel (MP) camera, and Apple's cool new Dynamic Island user experience.
Who it's for: Anyone who wants a high-end phone — unless they're firmly in the Android ecosystem.
Why we picked the Apple iPhone 14 Pro:
The Apple iPhone 14 Pro continues Apple's stylish iPhone 5-era design that the company resurrected two years ago with the iPhone 12 series. It feels both elegant and solid in hand, with a durable Ceramic Shield display and textured matte glass on the back framed by stainless steel edges. The rear camera system is better than ever, with a 48MP main sensor that offers astonishingly good low-light performance and a LiDAR scanner that provides near-instantaneous auto-focus in even the dimmest settings.
The iPhone 14 Pro supports every flavor of 5G connectivity, from low-band sub-6 to the ultrafast mmWave frequencies and the all-important new midrange C-band in between. It also manages to do all this in a single U.S. version, so you'll be able to use the iPhone 14 Pro on any U.S. carrier no matter where in the country you purchase it. It even includes emergency satellite connectivity so you can reach out for help when you're away from cellular coverage.
The Super Retina OLED screen on the iPhone 14 Pro continues to offer the same excellent color accuracy and sharpness as its predecessor, with a resolution of 2556 x 1179 at 460 pixels per inch (ppi). However, it's got another trick up its sleeve this year with the best always-on display we've seen in a smartphone. Instead of providing a basic monochromatic display when off, the iPhone 14 Pro offers a full-color version of the standard lock screen. Apple has even taken care to intelligently tweak the color tones, so your lock screen wallpaper still looks great when dimmed.
That's not all, though. The iPhone 14 Pro can also get much brighter, jumping to 2,000 nits outdoors, so it's eminently readable even in direct sunlight. That's the highest peak brightness of any smartphone on the market today, and it really makes a difference. You also get HDR10 and Dolby Vision support with an impressive 1,600 nits of peak brightness, along with Apple's ProMotion display with a variable refresh rate that can go from 1Hz up to 120Hz, giving you buttery-smooth scrolling and animation when you need it and saving your battery when you don't.
The iPhone 14 Pro (and its big sibling, the iPhone 14 Pro Max) continue to offer the best camera array in the iPhone 14 range. A pair of 12MP wide-angle and telephoto sensors are joined by a primary 48MP sensor that combine to provide superior low-light performance and offer optical zoom levels of both 2X and 3X. There's an impressive Night Mode, a cool Cinematic video mode, and a macro lens mode that lets you take photos of small objects up-close and personal.
While many competing smartphones boast better battery life, the iPhone 14 Pro should have no problem getting you through a day of typical use, thanks to the power efficiencies of the A16 Bionic chip and the display technology. The variable refresh rate in particular makes a huge difference when watching videos since it can lower the refresh rate to a more reasonable 24Hz or 30Hz to match the frame rate offered by most movies and streaming video services. Since maintaining a 5G connection uses more power, the iPhone 14 Pro also optimizes your battery life by dropping back to 4G/LTE when you don't really need the extra speeds offered by a 5G network, such as when you're simply walking around with your phone in your pocket.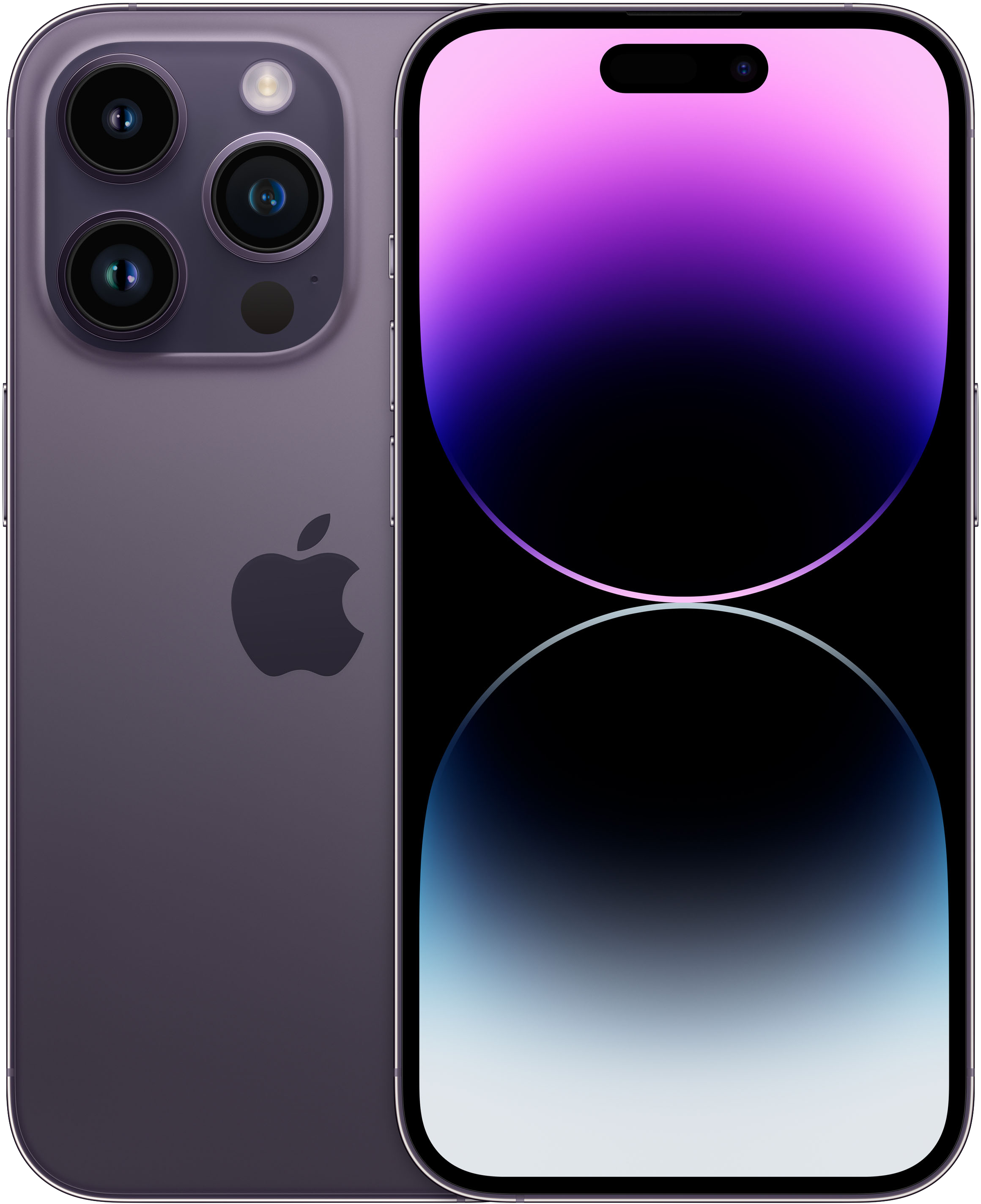 iPhone 14 Pro
Best 5G phone overall
Samsung Galaxy S22
Best value 5G phone
Pros
Pleasingly compact and sturdy build
A gorgeous flat OLED screen
Best-in-class Android OS upgrade policy
Reliable cameras
Fluid performance
Cons
Small battery that drains quickly
Charging speeds really need a boost
Ultrawide camera has a distortion quirk
Runs hot quickly under load
Why you should buy this: The Samsung Galaxy S22 is a powerful flagship at an affordable price for folks who don't need to splurge on everything the S22 Ultra offers.
Who it's for: Anyone who wants a 5G-capable phone that offers high-end specs at a price that won't break the bank.
Why we picked the Samsung Galaxy S22:
Don't let all the bells and whistles on Samsung's premium Galaxy S22 Ultra fool you into thinking that more is always better. Although it's too often eclipsed by Samsung's flashier models, the Galaxy S22 is a powerful smartphone that still punches quite a bit above its weight class.
For one thing, it provides all the same power and 5G capabilities in a considerably more pocketable package. You get the same Snapdragon 8 Gen 1 chipset found in the rest of the S22 lineup and full 5G compatibility with all major U.S. carriers — including ultrafast mmWave support for top performance in densely populated areas.
The smaller size means you'll sacrifice a bit of battery life — that's just the laws of battery chemistry at work — but it should still be enough to get you through a day of typical use. A smaller phone naturally also means a smaller screen, coming in at 6.1 inches, but it still packs in a Super AMOLED display with a resolution of 2340 x 1080 pixels and a 120Hz refresh rate. It's nearly every bit as sharp and colorful as the rest of the S22 lineup.
The Galaxy S22 is no slouch in the camera department, though, packing in a 50MP main shooter that's joined by a 12MP ultrawide and 10MP telephoto lens. The front camera also offers 10MP selfies and 4K video capture at 60 frames per second (fps). All of Samsung's latest photography features are here, too, including an impressive portrait mode, night mode support for all three rear lenses, and more creative features like Single Take, Director's View, and Super Slow-Mo.
Samsung's Galaxy S22 starts at $750 for the 128GB model or $800 to make the jump to 256GB. It's available in Bora Puprle, Pink Gold, Phantom Black, Phantom White, and green and can be purchased directly from Samsung or from any of the major U.S. carriers.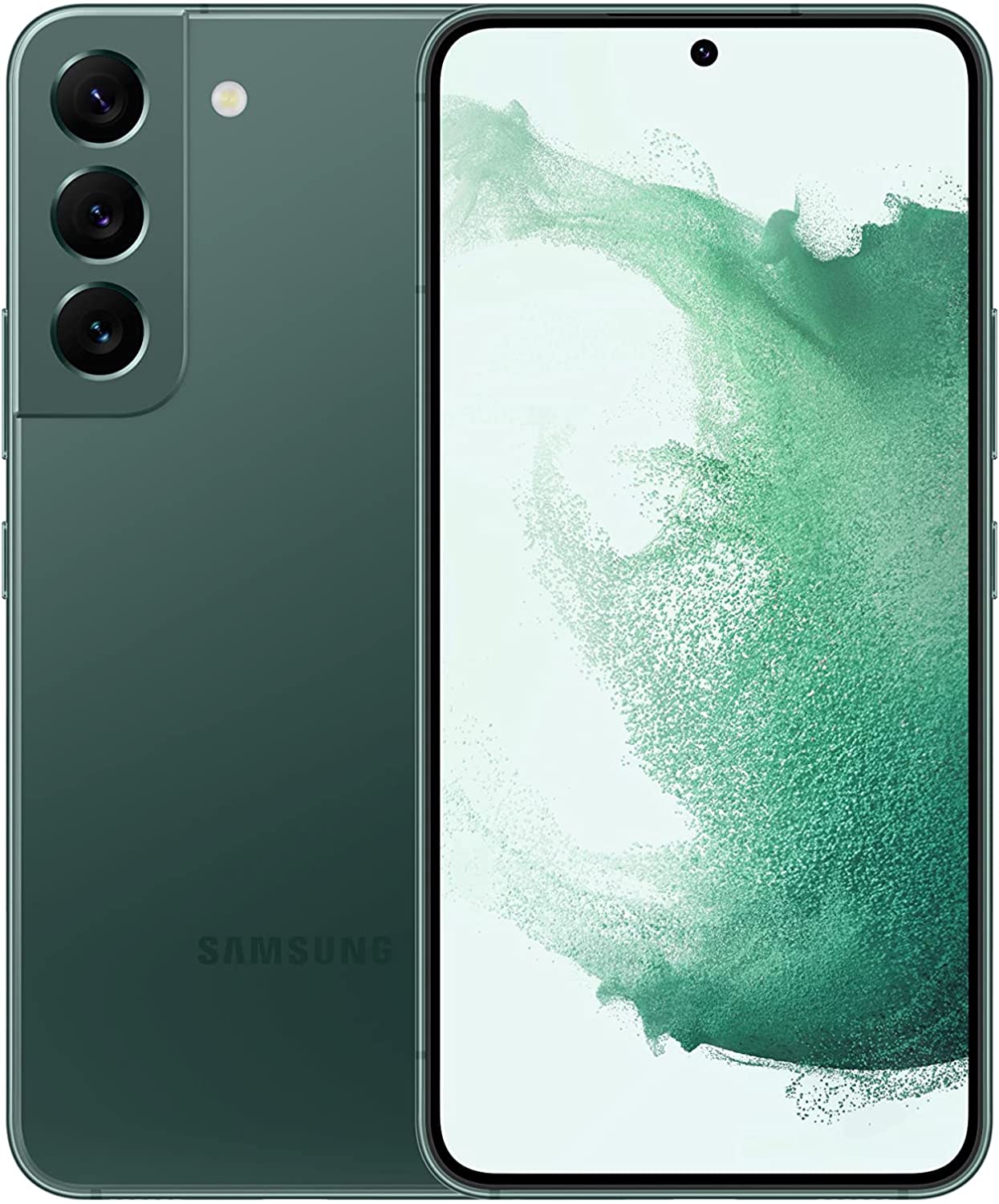 Samsung Galaxy S22
Best value 5G phone
Samsung Galaxy S22 Ultra
Best 5G Android phone
Pros
S Pen is convenient and highly accurate
Versatile camera takes great photos
The latest processor for power
Long software support
Beautiful high refresh rate screen
Cons
Not very fast battery charging
Large and heavy
Why you should buy this: The Galaxy S22 Ultra is a gorgeous hunk of phone with every panel and line perfect in fit and finish.
Who is it for?: Buyers who seek the safest, most forward-looking tech purchase available.
Why we picked the Samsung Galaxy S22 Ultra:
The Samsung Galaxy S22 Ultra is a tough phone that will last for years. It's all business with flat end caps, sharp lines, and squared-off corners — not the friendliest design, and not the easiest to handle, but solid. At 228 grams, it's one of the heaviest smartphones out there. But there's a real beauty in the brutalism, and it's stylish and sleek despite all that.
The Galaxy S22 Ultra's huge screen is arresting with beautiful colors, deep blacks, and features like HDR10+ and Dolby Atmos for multimedia. The same Armor Aluminum metal used on the Galaxy Z Fold 3 and Z Flip 3 constructs the chassis, paired with Gorilla Glass Victus+. Its 6.8-inch Dynamic AMOLED screen has a 120Hz refresh rate and a maximum resolution of 3088 x 1440 pixels. It supports HDR10+ and is covered in Gorilla Glass Victus+, with peak brightness at 1,750 nits. Samsung promises four Android version updates and five years of security updates for superlative longevity.
The Galaxy S22 Ultra comes with an S Pen stylus nestled within a storage slot on the bottom of the phone, letting you take neat, hand-written notes using the stylus and the screen naturally. The camera lenses are individually set in the back panel in an attractive, minimalist design — not integrated, as in the previous model. The camera takes beautiful photos with vibrant colors and balance, with an updated, customizable portrait mode, and otherwise gets the job done with a variety of versatile high-quality optical zoom modes plus the main and wide cameras.
It uses the Qualcomm Snapdragon 8 Gen 1 processor. The cheapest model comes with 8GB of RAM and 128GB storage space and does not support a microSD card. The battery is rated at 5,000mAh, and Samsung has equipped the phone with support for 45-watt fast charging (block not included in the package).
The Samsung Galaxy S22 Ultra costs $1,050 for the 8GB/128GB version. For more storage, the price is $1,150 for a 12GB/256GB model or $1,250 for a 12GB/512GB model. Samsung promises four Android version updates and five years of security updates for superlative longevity.
Samsung Galaxy S22 Ultra
Best 5G Android phone
Google Pixel 7
Best fashionable 5G phone
Pros
Superb camera
Long battery life
Eye-catching design
Vibrant screen
Years of software updates
Fantastic price
Cons
Slow charging
Software bugs
Poor gaming performance
Why you should buy this: The Google Pixel 7 offers a superb camera with impressive battery life, a great software experience, and a full range of 5G compatibility.
Who it's for: Anyone looking for a uniquely stylish and aesthetically appealing smartphone with a fashionable color scheme and quality materials and feel.
Why we picked the Google Pixel 7:
The Google Pixel 7 is the sweet spot in this year's Pixel lineup, since it offers all the 5G capabilities of its more expensive "Pro" sibling with a much more reasonable price tag. Unlike last year's Pixel 6, Google has added ultrafast mmWave to this year's base model, so you'll get the best 5G coverage and speeds possible no matter where you land.
Of course, there's more to the Pixel 7 than just its 5G capabilities. It's a flagship phone in its own right, with a striking design that's now made from a smooth recycled aluminum chassis that pairs up with a Gorilla Glass Victus rear panel. There's a minimalist yet classy style about it that sets it apart from any other smartphone on the market.
On the front, you get a gorgeous 6.3-inch AMOLED screen with a 90Hz refresh rate and a 2400 x 1080 pixel resolution. It's also HDR10+ certified to handle the latest streaming blockbusters. The display is remarkably bright and offers superb viewing angles to let you can keep the phone flat on the table without losing detail or color when watching videos. A 10.8MP selfie camera is tucked into a hole-punch cutout in the front of the screen.
Around back, you'll find a 50MP main camera with laser autofocus and optical image stabilization, plus a 12MP ultrawide camera with a modest 114-degree field of view. The Pixel 7 can record 4K video at 60 fps in 10-bit HDR, and the cameras provide excellent consistency and can produce great photos in almost every situation without having to give it much thought.
The Pixel 7 uses Google's second-generation Tensor G2 processor and inclues 8GB of RAM with 128GB or 256GB storage options. While the 4,355mAh battery doesn't sound like much, Google has improved power management to the point where you should easily be able to get through a day of moderate to heavy usage, as long as you're not a gamer.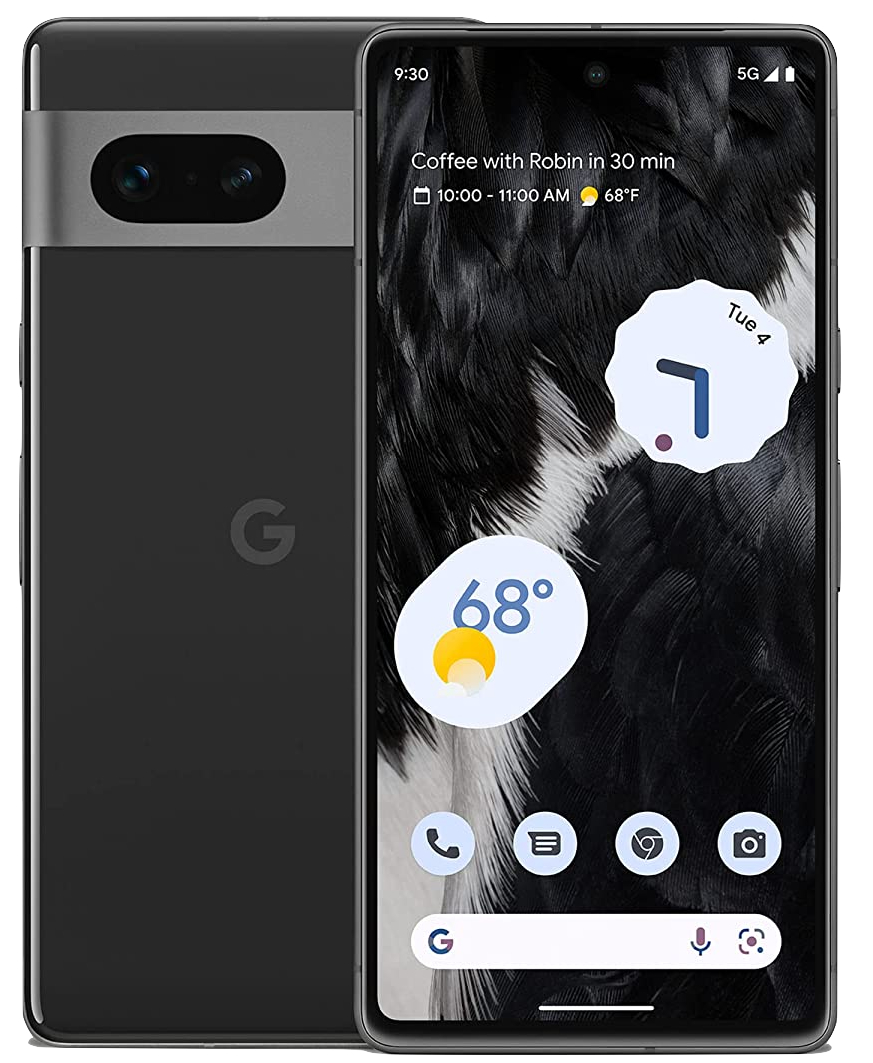 Google Pixel 7
Best fashionable 5G phone
Samsung Galaxy Z Fold 4
Best 5G foldable phone
Pros
Usable cover screen
Excellent multitasking features
Inner screen is great for games and video
Reliable and fun camera
Water resistant and durable materials
Cons
Heavy use kills the battery
Slow charging
Why you should buy this: The Samsung Galaxy Z Fold 4 is the most powerful foldable on the market, bar none. After four years of refinements and progress, it's ready to be recommended to anyone looking for a great gaming experience with impressive multitasking and productivity features.
Who it's for: Anyone who wants a phone and a tablet rolled into one.
Why we picked the Samsung Galaxy Z Fold 4:
There's no denying the Galaxy Z Fold 4 is one of the most expensive smartphones on the market right now, but that's not surprising given how much power this packs into your pocket. When closed, the 6.2-inch cover screen provides a convenient way to use the Galaxy Z Fold 4 as a more traditional smartphone, where it works similarly to Samsung's other smartphones, like the Galaxy S22. However, when you need more room to work, you can open things up into a gorgeous 7.6-inch Dynamic AMOLED display that provides an expansive canvas for everything from playing Genshin Impact to working on an Excel spreadsheet, all while collaborating on Microsoft Teams.
That last point is where the Galaxy Z Fold 4 truly shows its prowess as a productivity device. Samsung has raised the bar for mobile multitasking in a big way with the latest model, allowing you to organize up to three apps in separate windows, and in some cases even float a fourth app on top of the rest. The powerful Snapdragon 8+ Gen 1 chip handles this multiple-app layout with aplomb, letting you get a lot of things done quickly with nary a trace of lag or heating up.
Naturally, all this power comes with matching 5G capabilities. Support for the entire 5G spectrum means you'll get the best possible performance no matter what U.S. carrier you're using or where you're located. There's also advanced Wi-Fi 6E, Bluetooth 5.2, and of course NFC wireless features built-in.
The Galaxy Z Fold 4 also has a more unique camera system than most traditional smartphones. The typical camera array here consists of a 50MP main camera, a 12MP ultrawide lens with a 123-degree field of view, and a 10MP telephoto that boasts a 3x optical and 30x digital zoom. It's a near-perfect combo that produces excellent photos and can also record video at up to 8K resolution at 24 frames per second (fps). Samsung's Pro mode, Single Take, and portrait features are all here as well.
This main camera system is joined by a 10MP cover camera for participating in video calls and taking selfies when the foldable is closed, plus an Under Display Camera (UDC) on the main screen. Coming in at only 4MP, this one is considerably weaker than the rest, although it's more than enough for calls in Zoom and Microsoft Teams.
Naturally, all this power comes with a price tag to match. The Galaxy Z Fold 4 starts at $1,599 for a 256GB version, topping out at $1,760 if you want 1TB of storage — which may be worth considering as there's no microSD card slot available for expanding the memory.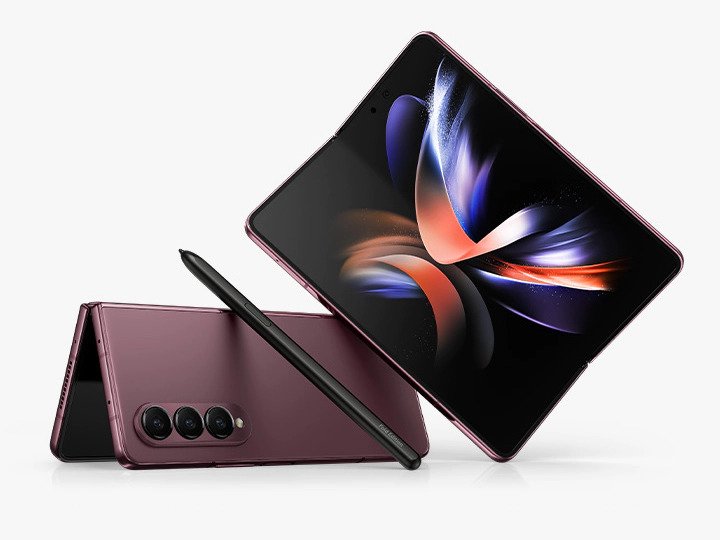 Samsung Galaxy Z Fold 4
Best 5G foldable phone
iPhone 14
Best mainstream 5G phone
Pros
Comfortable, high-end build
OLED screen looks fantastic
A15 chip performs great
Good camera upgrades
Dependable battery life
Helpful safety features
Cons
60Hz display
No telephoto camera
eSIM might be a pain for some
Why you should buy this: The iPhone 14 offers a comfortable and familiar modern iPhone that delivers all the features most folks need while offering the same 5G capabilities as its more expensive sibling.
Who it's for: Anyone who wants a premium 5G iPhone at an affordable price.
Why we picked the Apple iPhone 14:
While the iPhone 14 may not have all the latest bells and whistles of its more expensive sibling, what it does have going for it is comfortable familiarity and a much more affordable price tag.
Anybody who has used an iPhone in the past two years will feel right at home with the iPhone 14, which maintains the same squared-off design that first came to the iPhone 12 and the screen notch that's been around since the iPhone X introduced it in 2017.
Don't let this more traditional look fool you, though. While the iPhone 14 doesn't have the fancy Dynamic Island or 120Hz always-on display of the iPhone 14 Pro, it still offers a bright and colorful OLED screen. The colors are balanced, it's bright enough to be seen in outdoor daylight conditions, and the text and icons are sharp and crisp.
While the camera system hasn't changed much over last year's iPhone 13 — it's still a pair of 12MP main and ultrawide cameras — it does get a slightly larger f/1.5 aperture and Apple's new Photonic Engine for better image processing. The front TrueDepth selfie camera also gains autofocus.
The standard iPhone 14 also includes many of the other improvements that came to the iPhone 14 Pro, especially when it comes to safety features. There's emergency satellite connectivity to let you summon help when you're stranded outside the reach of traditional cellular networks and crash detection that can automatically call 911 for you after a serious accident.
Similarly, Apple's entire iPhone 14 lineup boasts the same 5G capabilities, so you don't need to rush out and pick up an iPhone 14 Pro to get the best 5G speeds. Although some speed test reports show the iPhone 14 Pro models leading the pack, those numbers are likely skewed by owners of Apple's more expensive flagship iPhone models being more prone to running regular speed tests.
The iPhone 14 starts at $799 for the 128GB model or 256GB and 512GB options available for $899 and $1,099, respectively. It's also available in a more vibrant array of colors, including purple, red, blue, Starlight, and Midnight.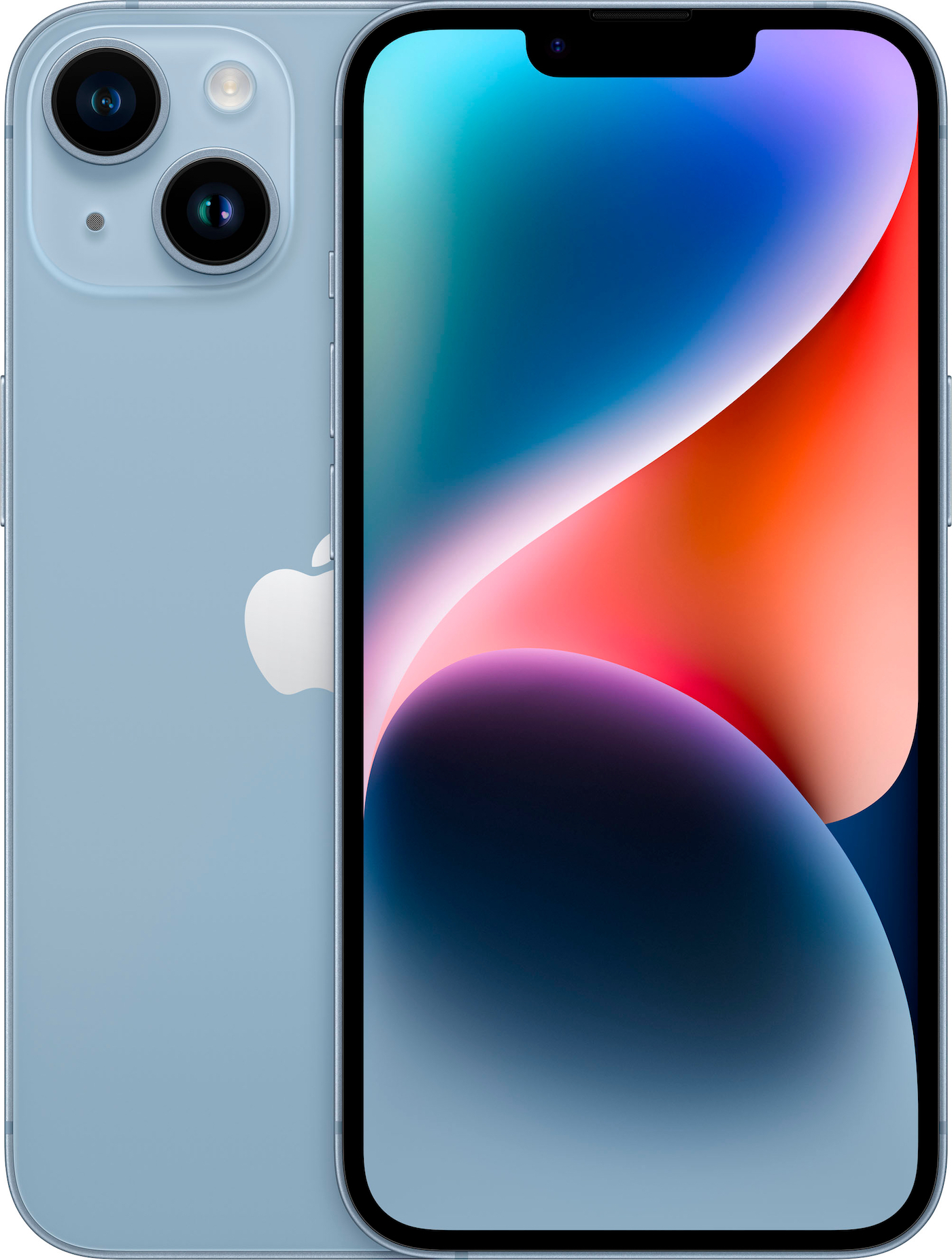 iPhone 14
Best mainstream 5G phone
Samsung Galaxy A53 5G
Best value 5G phone (Android)
Pros
Pretty design
IP67 water-resistance
Camera is great for social media
Vibrant screen
Two-day battery life
Cons
Performance can be sluggish
Not an upgrade to the A52 and A52S
Why you should buy this: It offers all the key smartphone features, including 5G, for less than half the price of our top choices.
Who it's for: Anyone who doesn't want to spend $1,000 but still values great features and a future-proof 5G connection.
Why we picked the Samsung Galaxy A53 5G:
Samsung's Galaxy A-series continues to be something of an underappreciated gem, and the Galaxy A53 5G is an excellent choice if you're looking to pick up a 5G smartphone without having to break the bank. At $450, it's less than half of a lot of the options on this list — and a stunning quarter of the price of the Galaxy Z Fold 3 — but still comes with all the features you'd need out of a 5G phone.
The design is a particular high point, and the A53 5G's colorful and eye-catching style belies its midrange price. Samsung very much aimed this smartphone at a certain, stylish crowd, and it shows. It's a gorgeous-looking phone, and it's one you won't be afraid to show off if you're a fan of making a strong statement. The specs don't disappoint either. The display has a 120Hz refresh rate, something mostly restricted to flagship phones only last year, and the internal hardware is also enough to keep it purring away without much complaint for years to come. But what about the 5G support? Well, it's here (obviously), and it's good. There's support for mmWave and Sub-6 bands, so it should be good to go with all major U.S. carriers.
At just $450, the Samsung Galaxy A53 5G is a strong contender for a 5G smartphone, though it's worth keeping in mind you will be missing out on some features if you pick this up. We haven't had much time with it yet, but it's likely that the quad-lens camera won't match its more expensive cousins, and the 25W fast charging is a little wimpy compared even to other options you can find in this price range. But even with those downsides in mind, it's still a steal if you're desperate to experience 5G.
Samsung Galaxy A53 5G
Best value 5G phone (Android)
iPhone SE (2022)
Best value 5G phone (Apple)
Pros
Compact and light
Very powerful
Touch ID works really well
Wireless charging
IP67 water resistance
Cons
Poor battery life
60Hz screen
64GB won't be enough
Why you should buy this: Apple's iPhone SE offers a classic iPhone design with excellent performance, modern 5G capabilities, and a price tag that's easy on your wallet.
Who it's for: Anybody who wants a 5G iPhone at the most affordable price.
Why we picked the iPhone SE (2022):
The classic design of Apple's iPhone SE may seem quaint among today's modern smartphones, but don't let that fool you. Underneath that old-school look is virtually the same A15 chip found in the iPhone 14. This means it not only clocks in at the same performance — more than enough to handle all the latest mobile games — but you can also expect support for Apple's iOS updates for years to come.
The iPhone SE (2022) also offers great support for low-band and midband/C-band 5G, but sadly lacks compatibility with the fastest mmWave frequencies. However, with C-band capable of speed approaching 1Gbps, it's not something you're likely to even notice unless you live or work in a really densely populated area.
The biggest difference between the iPhone SE (2022) and its more expensive siblings lies in the camera system. Like prior iPhone SE models and the iPhone 8 upon which its design is based, the iPhone SE (2022) sports only a single 12MP wide camera on the back, joined by a 7MP FaceTime HD camera around front. The power of the A15 chip adds some nice computational photography capabilities — you get Smart HDR 4 and Deep Fusion — and there's also optical image stabilization. However, there's no night mode, and the portrait mode is forced to rely on machine learning to identify people and pets, since there's no second camera to handle the depth mapping. The rear camera supports video recording at 4K resolution of up to 60 fps, while the front camera can handle 1080p/30 fps video.
The basic front camera system also means no Face ID. Instead, the iPhone SE (2022) has a Touch ID sensor in the front home button, just like other iPhones that share its design. That's not entirely a bad thing, as there are some situations where Touch ID is handier than Face ID, and this provides an option for folks who prefer the fingerprint sensor to Apple's newer facial recognition technology. More importantly, it helps to keep the price down. The iPhone SE (2022) starts at $429 for a 64GB model, which makes it the most affordable iPhone you can get by a considerable margin.
iPhone SE (2022)
Best value 5G phone (Apple)
Frequently Asked Questions
Where can I get 5G?
Today, 5G services are widely available, , although not all carriers provide the same coverage and speed everywhere. T-Mobile was the first to launch a nationwide network built on its Sub-6 spectrum. At the same time, Verizon decided to start from the other end, relying on ultrafast mmWave technology that allowed it to deliver staggering performance, but only in tiny areas. More recently, both Verizon and AT&T have been taking advantage of their recently-acquired C-band spectrum to deliver faster 5G speeds across the nation.
The bottom line is that if you live in a major city, you should have access to some flavor of 5G, and chances are that it'll be from all three major carriers. If you live in a rural area, your odds of encountering 5G are getting better. Still, even if you don't have access to a 5G network today, it's worth being prepared by picking up one of the best 5G phones now since 5G coverage is rapidly expanding.
The different kinds of 5G
If you have access to a 5G network right now, chances are you're on a low-band or midband 5G network, often collectively referred to as "Sub-6" networks due to their use of frequencies below 6GHz. Lower frequencies travel considerably farther than higher ones, although that comes at the cost of lower capacity, which means slower speeds. Rural areas will most commonly only be covered by the lowest 5G frequencies since carriers can build fewer towers to cover the sparser population.
On the other end of the spectrum is mmWave, which runs at frequencies of 24GHz and above. These extremely high frequencies (EHF) offer staggeringly fast speeds — up to 4Gbps under ideal conditions — but they also can't travel much farther than a city block and don't penetrate solid objects like walls nearly as well as the lower frequencies. However, the higher capacity offered by mmWave makes it ideal for densely populated areas and venues like stadiums and airports where thousands of people may be using smartphones at the same time. In today's 5G landscape, mmWave should be seen as more of a bonus than a core requirement for accessing the best 5G networks.
Thankfully, there's a third option that's opened up between both these extremes in the form of C-band and other midrange frequencies. These are the sweet spot for 5G spectrum right now, providing the ideal balance between the ultrafast but extremely short-range high-frequency mmWave spectrum and the low-band 5G frequencies that offer expansive coverage but can't deliver performance that's much better than 4G/LTE networks.
New C-band spectrum is changing the game
Over the past two years, Verizon and AT&T have spent billions on a new chunk of 5G spectrum called C-band. These new frequencies are allowing both carriers to offer significantly better 5G coverage and performance for more of the U.S. population.
Unfortunately, it's not all sunshine and roses with the new C-band rollouts. The new spectrum has been mired in controversy between the U.S. Federal Communications Commission (FCC), Federal Aviation Administration (FAA), wireless carriers, and the aviation industry due to fears that these 5G frequencies sit perilously close to those used by aircraft instruments. The major players reached a detente earlier this year that allowed the carriers to begin their C-band deployments — on the condition that they'll avoid major airports until the FAA and aircraft equipment manufacturers can mitigate the risk of interference.
Verizon has forged ahead quickly with its C-band rollouts, bringing its 5G Ultra Wideband network to over 100 million more people — and it's making a big difference in delivering real 5G speeds. AT&T has taken things more slowly, rolling out the original C-band to only a handful of cities, but it also has a chunk of the less-controversial C-band spectrum, further away from the frequencies used by aircraft instruments, that it's begun rolling out more recently.
Still, Verizon and AT&T both have their work cut out for them in catching up with T-Mobile, which had a big head start thanks to a sizeable chunk of midrange spectrum that it acquired in its merger with Sprint two years ago.
Editors' Recommendations