MSFT stock lifted 4% on decent cloud growth in FQ2.
Microsoft met EPS consensus but missed revenue forecasts.
CEO Satya Nadella focused on the future of AI.
XBox, devices and Windows OEM revenues saw major declines.
Microsoft (MSFT) was able to evade the bears late Tuesday when results from its cloud business impressed enough for the market to overlook its half-billion-dollar revenue miss. For the fiscal second quarter, which ended on New Year's eve, Microsoft reported adjusted earnings per share of $2.32, in line with Wall Street estimates, but revenue of $52.7 billion missed the consensus forecast by $450 million. When you are as large as Microsoft though – the software giant has the second largest market cap in the United States at $1.8 trillion – what is a half billion dollars worth anyway?
Microsoft stock news: Cloud comes to the rescue
Microsoft's Intelligent Cloud segment that includes Azure lifted revenue by 18% YoY, which allowed shareholders to start breathing again. There had been bountiful worries in the leadup to the results that cloud revenue would see negligible growth. 18% still demonstrates that the growth in cloud has begun to slow, but nearly everyone knew that based on competitors like Amazon Web Services and Google Cloud.
Overall GAAP net income of $16.4 billion fell 12% YoY, but CEO Satya Nadella could not be bothered as he chose to tout the future of Microsoft's artificial intelligence future. Microsoft just invested billions in a multiyear deal with ChatGPT parent OpenAI. 
"The next major wave of computing is being born, as the Microsoft Cloud turns the world's most advanced AI models into a new computing platform," said Satya Nadella. "We are committed to helping our customers use our platforms and tools to do more with less today and innovate for the future in the new era of AI."
The Productivity & Business Processes segment rose 7% YoY. The More Personal Computing segment was the big loser of the operation with revenue declining 19% YoY due to major setbacks in Windows OEM, XBox and devices.
Microsoft stock forecast
Microsoft stock has jumped above $253 afterhours and will likely take aim at $264 in the coming sessions. That price level coincides with the high from December 13. A close on the daily chart above $264 would mean a new higher high had been achieved. This would likely bring more bulls to the fore. This would imply that the bottom in MSFT shares was in since Microsoft already produced a higher low on January 6, above the range low from November 4. Both the Moving Average Convergence Divergence (MACD) indicator and the 9-day and 21-day moving averages are crossed over currently in bullish mode. This is implies that trades should expect the uptrend to continue until further notice. Support sits at $220.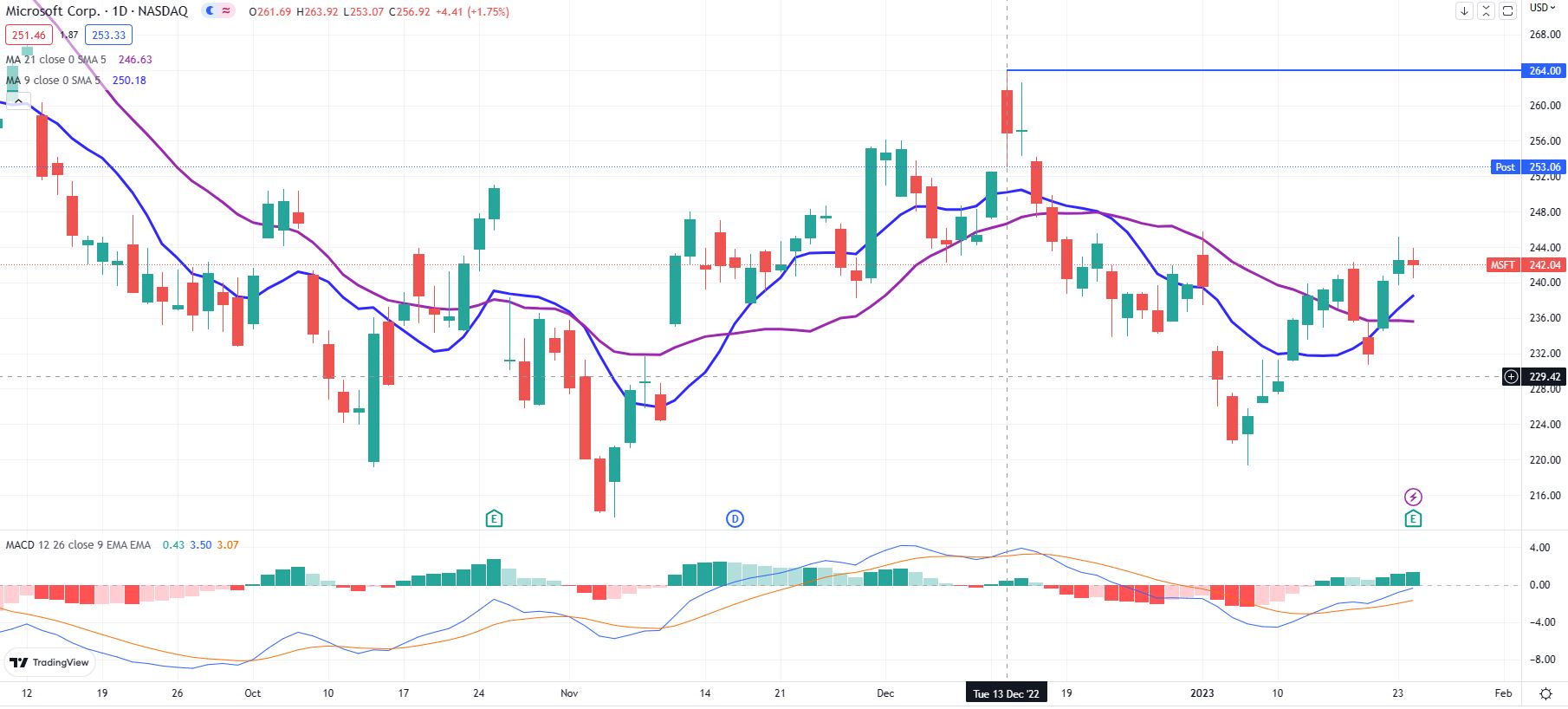 MSFT daily chart