Share:

A busy week ahead for GBP/USD with domestic growth and central bank speakers.
GBP/USD bulls are attempting to correct the US Dollar's strength.
On the daily chart, the 38.2% Fibonacci is around the psychological 1.2150 area. 
GBP/USD is flat on the day at 1.2025 so far as we enter the Tokyo session with the price sticking to a narrow 1.2013-1.2027 so far. The Pound Sterling fell to a one-month low against the US Dollar at the start of this week with traders focussing on British growth data and Bank of England speakers.
Analysts at TD Securities explained that the "further strikes, a fall in hospital visits, and heavy snowfall likely drove a sharp decline in December'sGross  Domestic Product"
"However," they said, "even this bad a monthly reading won't quite tip the UK into recession—for now at least. On a sectoral level, we look for a 0.5% fall in the services sector (market: -0.4%) but think strong auto-production drove manufacturing output up 0.2% MoM (market: -0.2%)."
Central bank speakers on tap
Meanwhile, the Bank of England's Monetary Policy Committee member Catherine Mann on Monday spoke and was advocating for more hikes in the BoE's interest rates. She said pausing will risk a confusing "policy boogie". Looking ahead, Huw Pill and Governor Andrew Bailey will be heard. 
"We continue to expect the BoE to deliver a final 25bp hike in March," analysts at Danske Bank said. "Our expectations fall below current market pricing (currently 34bps until June 2023) as we expect the rest of the BoE committee to increasingly turn less hawkish amid a weakening growth backdrop and easing labour market conditions. Markets are pricing in 40bp of cuts during H2, while we keep our forecast of the first cut to be delivered at the beginning of 2024," the analysts added.
All in all, global equity markets dropped to start the week and the US Dollar firmed again from Friday's rally on the back of the US jobs market suggesting interest rates will stay higher for longer. Central banks are fighting to slow inflation amid relatively strong economic growth.
In this regard, there will be a slew of Federal Reserve officials also speaking this week. We will hear from Chair Jerome Powell later today in the New York session and the tone as suggested by Federal Reserve Bank of Atlanta President Raphael Bostic could be hawkish. He said January's strong jobs report raises the possibility that the central bank will need to increase interest rates to a higher peak than policymakers had previously expected. 
"It'll probably mean we have to do a little more work," Bostic told Bloomberg News in a phone interview on Monday. "And I would expect that that would translate into us raising interest rates more than I have projected right now."
GBP/USD technical analysis
GBP/USD has closed in the red for three day's in a row and given the stage o the week, we could be in for some consolidation and a move up into the in-the-money shorts: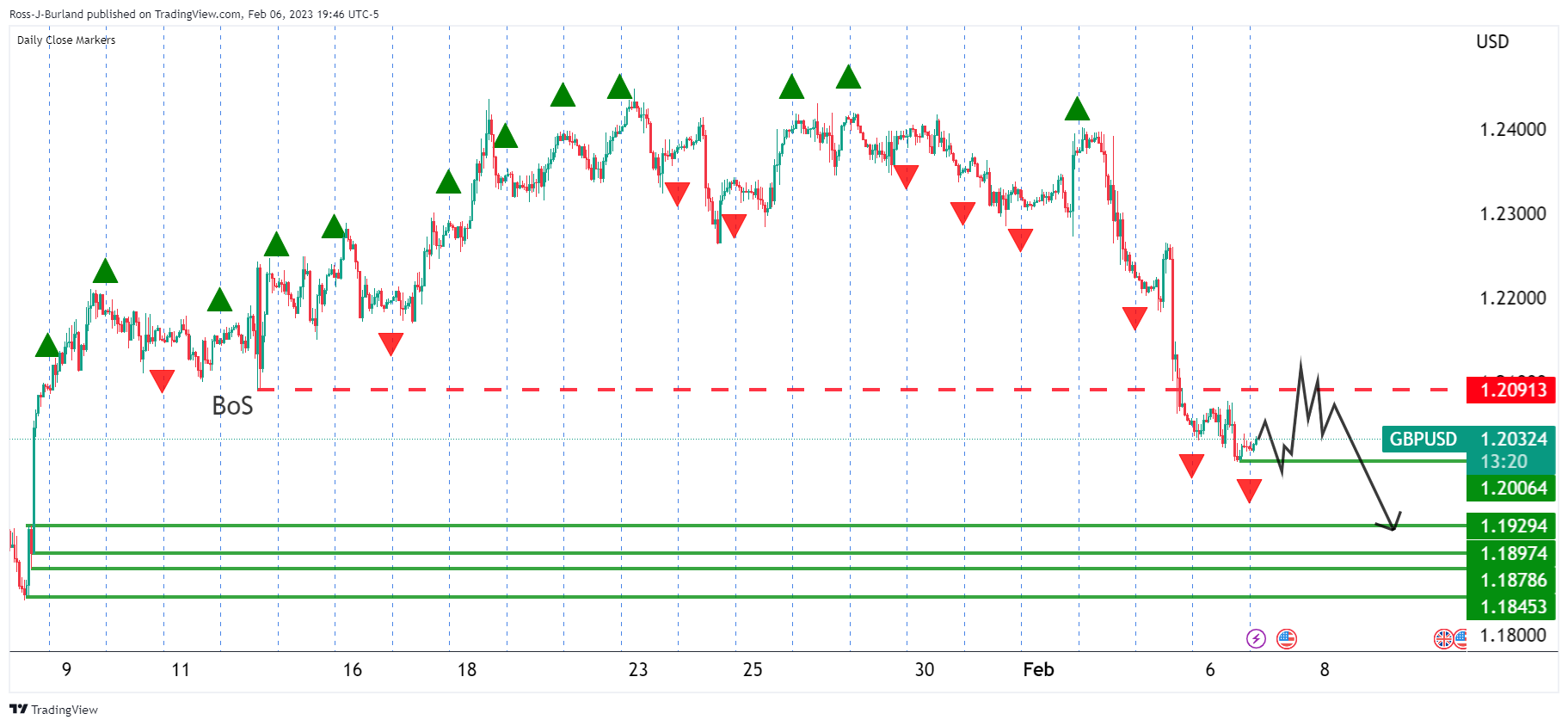 However, as the illustration above suggests, the bears could be lurking in a move-up to test the break of structure area (BoS) near 1.2090.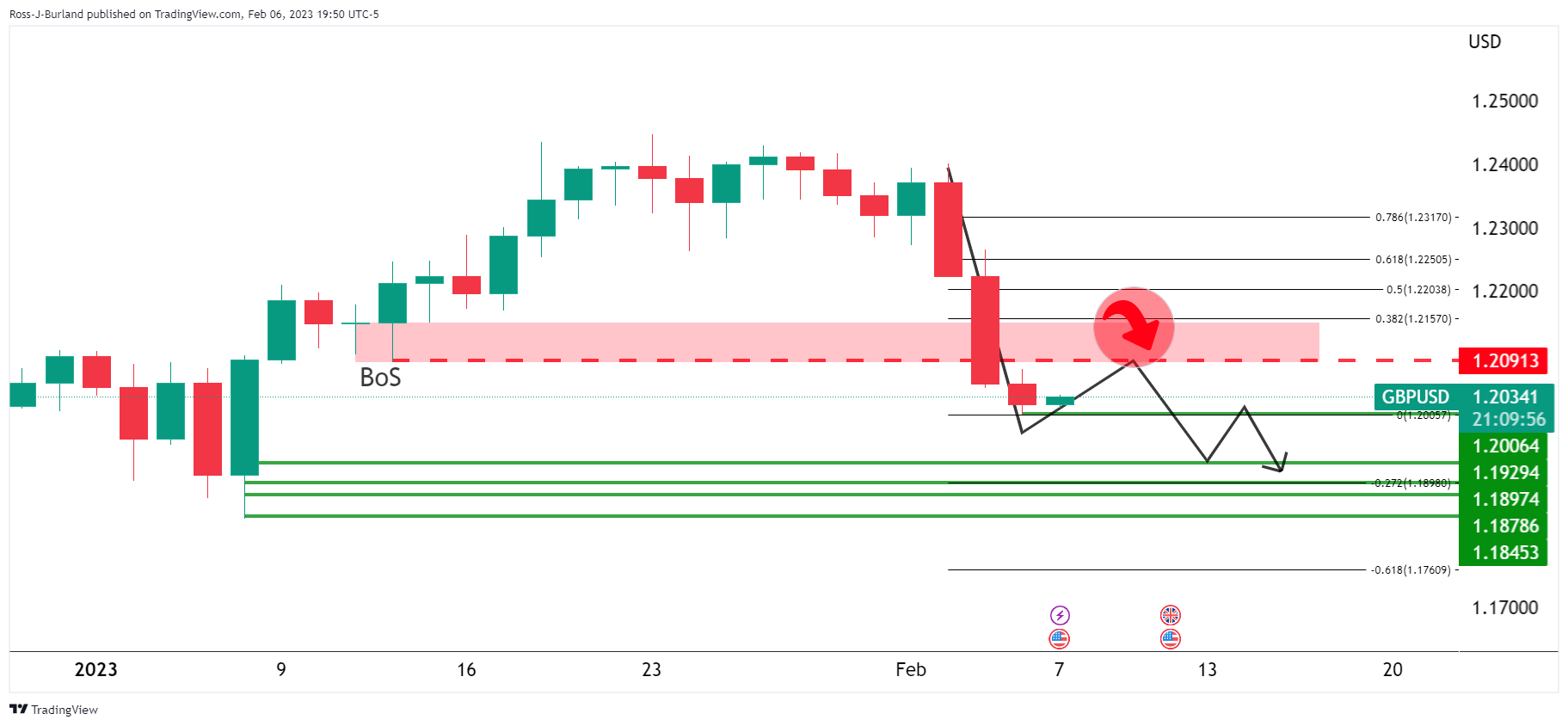 On the daily chart, this would tally up with a correction of the daily bearish impulse but the 38.2% Fibonacci, a targetted level in such scenarios, is higher in at around the psychological 1.2150 area.